Launching Nicobar has been amongst the best experiences of my life.
I lived in India the first 18 years of my life and then spent the 18 years after that in the US and Europe. That equal split allowed me to feel a sense of belonging in both worlds, and when I returned to India I felt an inner pull to create something rooted in India, a formless idea that eventually took shape and become 'a brand that would inspire India to modernise, without necessarily westernising.' That was the core thought that led us to think and build, and eventually launch, Nicobar.
When Nicobar launched we'd given that idea more specificity, and outlined our aim in the line we used to describe what we wanted to do: "Create a modern Indian way of living, dressing and looking at the world". Our anchors were timeless style and always being mindful in our choice of materials. Making mindful choices, picking fabrics and materials that were more planet-friendly…
Like Nicobar, Nico Sport also started with a quest to bring more mindful materials to sporting wear. Our initial range is a mix of organic cotton and recycled poly and we are already experimenting with materials like Tencel and bamboo for our next collection. Plus, much like Nicobar's seasonless style, our Sport line is also intended to seamlessly transition on and off the court; after all, we carry that sporting ethos with us wherever we go and we wanted clothing that reflected this.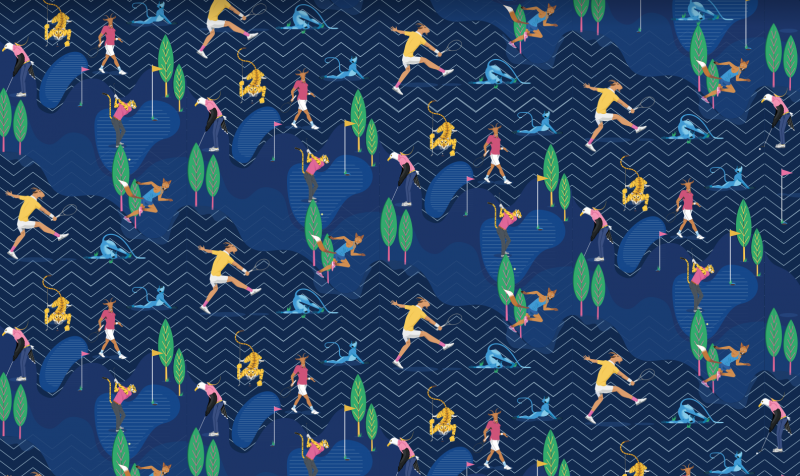 Plus, like Nicobar, detailing matters! We are so excited by our library of illustrations: Albert, the talented illustrator who worked on these with us, created a series of characters that reference nature, sport, and all have a little tongue in cheek humour that we hope our guests will enjoy. Whether it's Tiger on the green or the GOAT playing tennis… we all have our favourites in-house and I'd love to hear yours.
Samrat Som, the designer of the line, has been a close friend of mine for 10 years.
On our first meeting, he gifted me Matthew Syed's 'Bounce', a book about resilience through the eyes of a national level table tennis player. That kicked off a relationship and endless conversation and exchanges of ideas, often interwoven with a shared love for sport. After reading NY Times magazine editor Gerald Marzorati's 'Late to the Ball', a book in which he writes about starting to play tennis in his 50's and playing competitively in his 60's, Samrat and I decided to team up to compete in the senior tennis circuit! A lot of my closest friendships revolve around sport and I have always wanted to be able to gift my athletic or sporting enthusiast friends something that reflects this shared passion. I hope you find wonderful gifts here for your tennis-playing, gym-going, yoga-doing or golfing friends!
I often say that whenever there is a debate about a great sports personality, who that person is off-court says just as much about them as their on-court presence and performance. In fact, one of the greatest compliments I ever received was from a competitor who said to my wife, "Raul is both a competitor and gentleman, on and off court". Those words meant a lot to me.
And with that, I hope you enjoy Nico Sport as much as we've enjoyed working on this line, and that it brings a little humour and joy to all your athletic endeavours, on and off the court!
Cheers,
Raul