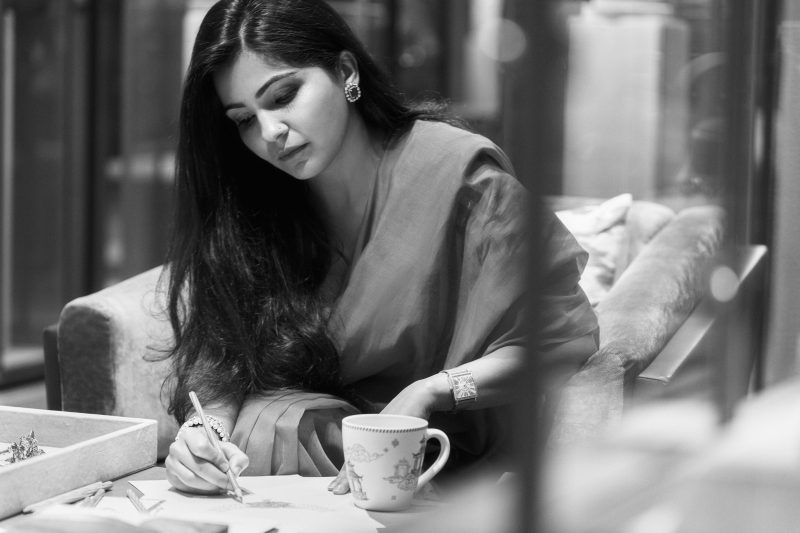 Niharika Shekhawat is the Creative Director at Sunita Shekhawat Jaipur, a family-run heritage jewellery brand from India. She's known as a visionary gemologist whose creative expression has really given the Sunita Shekhawat brand a unique design signature.
We love what she does: Niharika aligns style and purpose in a way that makes her incredibly inspiring to us, and we think to you as well. In our recent chat with her, Niharika gave us a peek into her personal style, her inspiration, and some cool jewellery styling tips that will come very handy.
Going back to your roots, how did you start doing what you do now?
What I do now has a lot to do with my childhood and upbringing. The way I caught up to working was super organic. In every Indian household, when you see your parents doing something every day, you tend to pick up those habits yourself. For instance, if my mum cooked every day, I would learn that same recipe. My mother was so passionate. I didn't even know when I got to work; it was so organic. 
How does a regular day at work look like for you?
The day starts with a zillion calls to the Jaipur office because that's where we report. It is a fun start. I always look forward to the minute I am in the car on my way to work, on calls and checking my emails. I look forward to coordinating with my teams in Jaipur – that's what one needs to learn when living in a bustling city like Delhi.    
Where does design inspiration come from?
For me, creativity is in many different forms. I am a visualizer more than a paper and a pen person. I like to visualise things. A lot of my inspiration comes from Jaipur. Having grown up in such a vibrant, colourful city, that's where everything is rooted for us. 
What's the importance of jewellery in your life and your favourite piece of jewellery?
I love jewellery that has been passed down. Whatever my mother passed down is super, super, super special to me. It holds a lot of emotional value. There is so much love behind it. Jewellery is a form of love and celebration. In India, we have grown up with mothers making jewellery for daughters and husbands gifting it to wives on a particular occasion, so it holds a lot of emotional value. Everything I have inherited, I love. I don't have a favourite pick, and I love all the pass-downs.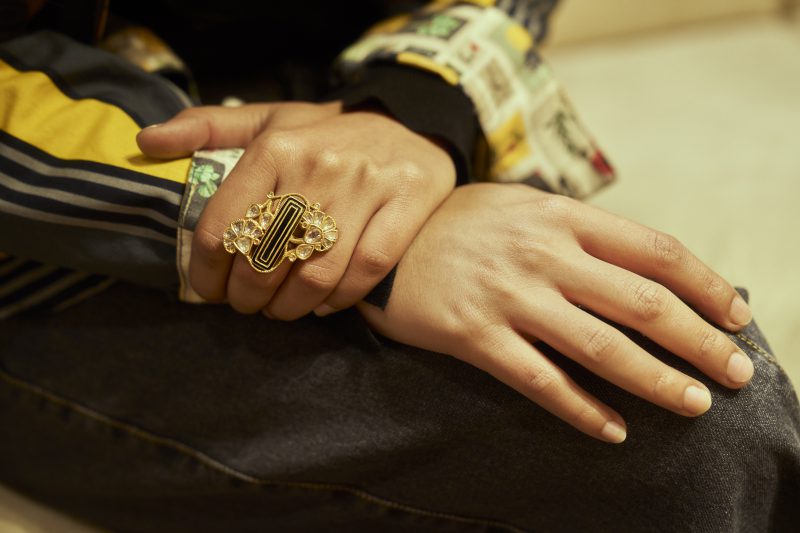 How do you switch heritage and jewellery, how do you bring them together?
So for me, jewellery is a sense of style, a sense of pride. You don't need an occasion to dress up to wear jewellery. That is why people are highly mistaken or have apprehension about wearing jewellery. You can dress up or dress down with just jewellery.
I love layering, hand jewellery, and accessorising. I have always kept my clothes minimal. This is why I love Nicobar because it gives me that sense to play with my wardrobe. I can team up different clothing elements with jewellery. It's a perfect modern Indian way to wear an outfit with jewellery.
Any personal styling tips you want to share with us?
I am not a stylist, but I love colours and the combination of colours; in fact, that's what we do in our jewellery all the time. I like simple cuts, lovely silhouettes, and anything classic. Even if I wear western, it's a classic look. If it's Indian, it's classic because ultimately I love timelessness.
How do you end your day?
I end my day with a nice goodbye to my team. When I'm done with my day, I want to unwind the minute I return home to my dog, Chutki. That's the best thing – she's just there when I open the door. 
How do you bring mindfulness and purpose to work on a daily basis?
We're all still finding that ground every day. In terms of purpose, certain things are super important and a part of your being. For me, you can't have two compartments. You love your work and life, and it's just a beautiful amalgamation of the two. The purpose is to be happy and just do what you want.
Is there any mindfulness ritual that you follow that keeps you grounded?
Over time I have realised music is super liberating; it gets my focus back on track. So often, when I am in my car, I want to switch everything off, get my earpods on and listen to music. For me, music is everything.
SHOP NIHARIKA'S LOOKS
Visit Sunita Shekhawat Jaipur and explore their modern heirloom jewellery.