Khow Suey is one of Myanmar's most famous culinary imports. While Khow Suey is, the most well-known Shan, Khow Suey comes with a slight variation. Originating from the Shan state in Myanmar, Shan Khow Suey contains tomatoes which make the broth light and flavourful. 
Ingredients:
100 grams of rice noodles
1 chopped onion
1 teaspoon of tomato paste
1 teaspoon of chopped ginger
1 teaspoon of chopped garlic
2 basil leaves
150 grams of mock meat
One-fourth cup of fermented mustard greens
1 tablespoon of green spring onion
2 chopped green chilies
1 teaspoon of light soya
Half a tablespoon of sambhal sauce
Sweet soya as required
One-fourth teaspoon of crushed white sesame
1 tablespoon of crushed peanuts
1 tablespoon of silken tofu
Salt as required
1 tablespoon of oil
Some accompaniments: pickled carrot, radish and mustard greens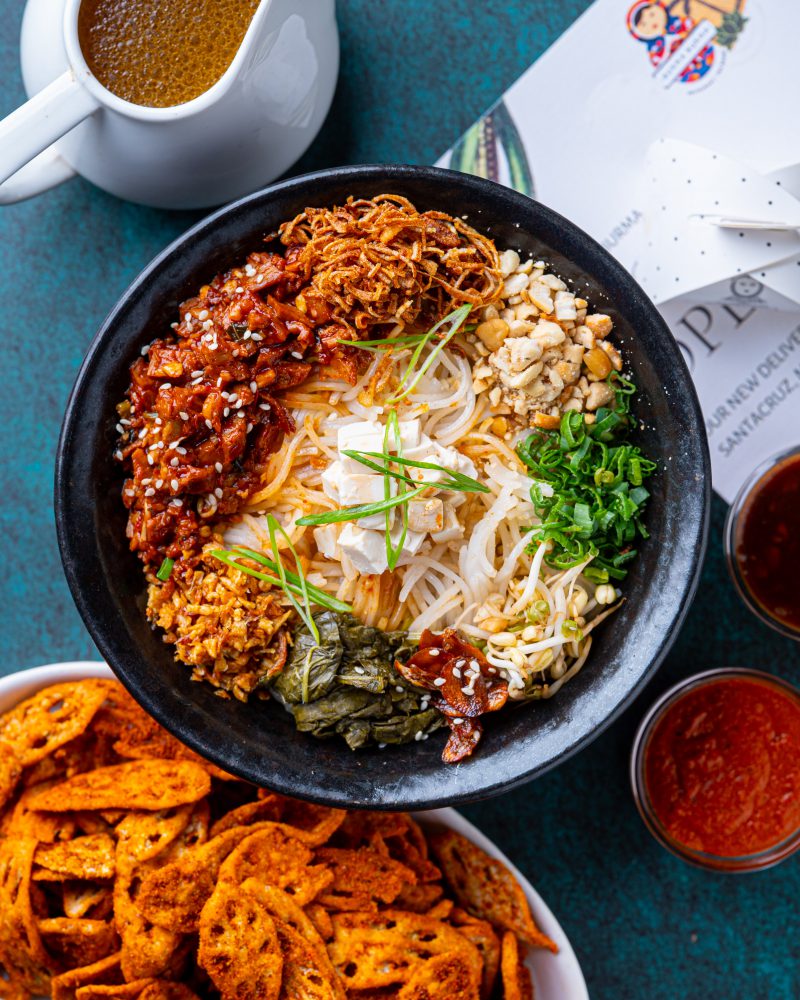 Cooking instructions:
Boil the noodles in water for 3 to 4 minutes, drain and keep aside

In a wok or deep pan, add half a tablespoon of oil and saute the onions, garlic and ginger. Then add some water (about 750ml), salt, light soy, and spring onion

Heat oil and saute the remaining onion, ginger, and garlic in a separate wok. Cook till brown. Add in the tomato paste, pounded mock meat, basil, sambhal, and green chilli and cook till the oil separates

In a deep plate or bowl (feel free to choose one from Nicobar's Bodhi collection), place the noodles in the centre and pour the hot prepared stock, followed by the mock meat and pickled mustard greens. Drizzle some sweet soy and mashed tofu

Served alongside pickled vegetables and some more mustard greens as desired. 
This recipe was crafted by Burma Burma. Photo courtesy of Burma Burma.